Eskay Mining Corp.
TSX VENTURE : ESK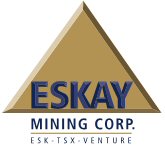 February 17, 2016 12:44 ET
TORONTO, ONTARIO–(Marketwired – Feb. 17, 2016) – Eskay Mining Corp. ("Eskay" or the "Company") (TSX VENTURE:ESK) wishes to announce that it has entered into agreement to settle an aggregate of $162,500 of management fee owed to a company controlled by an insider of the Company in consideration for the issuance of 1,884,057 common shares of the Company at a deemed price of $0.08625 per share. The disinterested directors of the Company have approved the debt settlement with the insider and his affiliated company. The debt settlement is subject to TSX Venture Exchange approval. The securities to be issued will be subject to a hold period of four months and a day.
The insider debt settlement is exempt from the valuation and minority shareholder approval requirements of Multilateral Instrument 61-101 ("MI 61-101") by virtue of the exemptions contained in sections 5.5(a) and 5.7(1)(a) of MI 61-101 in that the fair market value of the consideration for the securities of the Company to be issued to insider does not exceed 25% of its market capitalization.
About Eskay Mining Corp:
Eskay Mining Corp (TSX VENTURE:ESK) is a TSX Venture Exchange listed company, headquartered in Toronto, Ontario. Eskay is an exploration company focused on the exploration and development of precious and base metals in British Columbia in a highly prolific, poly metallic area known as the Eskay Rift Belt located in the "Golden Triangle", 70km northwest of Stewart, BC. The Company currently holds mineral tenures in this area comprised of 177 claims (130,000 acres).
All material information on the Company may be found on its website at www.eskaymining.com and on SEDAR at www.sedar.com.
Neither the TSX Venture Exchange nor its Regulation Services Provider (as that term is defined in the policies of the TSX Venture Exchange) accepts responsibility for the adequacy or accuracy of this release.