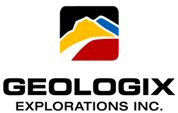 VANCOUVER, BRITISH COLUMBIA–(Marketwired – June 20, 2016) – Geologix Explorations Inc. (TSX VENTURE:GIX)(FRANKFURT:GF6)(BERLIN:GF6)(STUT:GF6)(MUN:GF6) ("Geologix" or "the Company") is pleased to announce the appointment of Mr. Kiran Patankar as President and CEO of the Company. Mr. Patankar will succeed Dunham Craig, who has been appointed Chairman of the Board. Past Chairman, George Brack, has been appointed Lead Independent Director.
Mr. Patankar is a mining executive with over 12 years of diverse experience as a public company CEO and director, investment banker, operations manager, and geological engineer. He was previously President, CEO and Director of Timberline Resources Corp., where he spearheaded the acquisition of the 1.2 million ounce Talapoosa gold project, oversaw a positive independent Preliminary Economic Assessment, and directed a competitive sales process that led to an announced offer by a private equity fund and US$500,000 equity financing amid a difficult market for junior gold companies. From 2007 to 2014, Mr. Patankar was an investment banker with Canadian and global financial institutions, where he advised clients ranging from junior growth companies to senior mining companies on capital raising and mergers and acquisitions. Prior to that, he worked in the mining industry for 4 years as a geologist and engineer and in the construction materials industry for 2 years in operational and business development roles. Mr. Patankar holds a B.Sc. in Geological Engineering from the Colorado School of Mines and an MBA from the Yale School of Management.
In connection with Mr. Patankar's appointment, the Company's Board of Directors has approved an inducement grant to Mr. Patankar of 550,000 common shares of the Company (the "Inducement Shares") and a common share purchase option (the "Inducement Option") to purchase 600,000 common shares of the Company for five years at $0.08 per share. The Inducement Option will vest, as to 25%, on each of granting, September 16, 2016, December 16, 2016, and June 16, 2017. The issuance of the Inducement Shares is subject to the approval of the TSX Venture Exchange.
Dunham Craig, Geologix's Chairman of the Board, stated: "We foresee that the resource sector is on the cusp of a turnaround and realise there are strategic opportunities that have potential to be beneficial to our shareholders. We believe now is the time to bring in a new leadership skill set to leverage these opportunities while maintaining continuity with the team that brought our primary asset, the Tepal Gold/Copper Project, to its current advanced state. Kiran's strong finance, capital markets and technical background will provide an essential foundation for the Company's future growth and complements the combined skills of our highly experienced Board of Directors. We are very excited to welcome Kiran to the management team at Geologix and to working together to create value for all our stakeholders."
The Company is also pleased to announce its intention to carry out a non-brokered private placement of up to 17,000,000 units at $0.065 per unit for gross proceeds of up to $1,105,000 (the "Offering"). Each Unit will consist of one common share and one-half of one non-transferable share purchase warrant. Each whole warrant will entitle the holder to purchase one common share for three years at a price of $0.10. The Company has received a subscription agreement from a European institutional investor, representing 9,700,000 units, or 57% of the Offering. The Company intends to use the net proceeds for the continued advancement of the Tepal Project and for general corporate purposes. The Offering is subject to approval of the TSX Venture Exchange.
In connection with the Offering, four Company directors have agreed to the early conversion of their convertible, unsecured, 10%, three-year promissory notes totalling $300,000 into 8,333,333 common shares pursuant to the conversion price at the time the notes were issued of $0.036 per share.
Dunham Craig, Chairman
About Geologix
Geologix Explorations Inc. is a mineral exploration and development company focused on acquiring, exploring, and developing mineral resource opportunities with the potential to host profitable mining operations. The Company's primary focus is the Tepal Gold/Copper Project in Michoacán state, Mexico. On March 19, 2013, the Company announced a Prefeasibility Study for the Project that indicated an 11.5 year mine life with payable production of 1.12 M oz. gold and 503 M lbs. copper, resulting in a post-tax NPV of $421 million at a 5% discount rate. The positive results of this study have led the Company to continue to work towards both completing a Feasibility Study for the Project and arranging the necessary financing to advance the Project to production.
This Press Release may contain statements which constitute 'forward-looking, including statements regarding the plans, intentions, beliefs and current expectations of the Company, its directors, or its officers with respect to the future business activities and operating performance of the Company. The words "may", "would", "could", "will", "intend", "plan", "anticipate", "believe", "estimate", "expect" and similar expressions, as they relate to the Company, or its management, are intended to identify such forward-looking statements. Investors are cautioned that any such forward-looking statements are not guarantees of future business activities or performance and involve risks and uncertainties, and that the Company's future business activities may differ materially from those in the forward-looking statements as a result of various factors. Such risks, uncertainties and factors are described in the periodic filings with the Canadian securities regulatory authorities, including the Company's Annual Information Form and quarterly and annual Management's Discussion & Analysis, which may be viewed on SEDAR at www.sedar.com. Should one or more of these risks or uncertainties materialize, or should assumptions underlying the forward-looking statements prove incorrect, actual results may vary materially from those described herein as intended, planned, anticipated, believed, estimated or expected. Although the Company has attempted to identify important risks, uncertainties and factors which could cause actual results to differ materially, there may be others that cause results not be as anticipated, estimated or intended. The Company does not intend, and does not assume any obligation, to update these forward-looking statements.
Neither the TSX Venture Exchange nor the Investment Industry Regulatory Organization of Canada accepts responsibility for the adequacy or accuracy of this release.