Glen Eagle Resources Inc.
TSX VENTURE : GER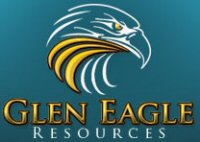 May 03, 2016 08:16 ET
MONTREAL, QUEBEC–(Marketwired – May 3, 2016) – Glen Eagle Resources Inc. (TSX VENTURE:GER) ("Glen Eagle" or the "Company") is pleased to announce that it has signed a Letter of Intent (LOI) with Australian Securities Exchange listed, Sayona Mining Limited ("Sayona"), to sell its Authier lithium asset for the sum of four million dollars (CDN $4 000 000). Sayona Mining specializes in sourcing, exploring and developing lithium and grapĥite assets on several continents. Sayona's directors have extensive experience in the lithium industry with three of its directors serving on the board of Altura Mining Limited and two of them being previously founders of Orocobre Limited.
To get the exclusive right to purchase Authier, Sayona has paid Glen Eagle a non-refundable fifty thousand dollars (CDN $50,000) to be deducted from the balance of the purchase price.
The full payment $CDN 4 000 000 will occur within 7 days upon Completion of the Sale ("Completion"). Sayona is currently in progress to restructure its balance sheet and the company remains very confident to have the financial wherewithal to close the Transaction at Completion.
The LOI is immediately legally binding and enforceable by the parties.
Sayona will have a maximum of 60 days to complete its due diligence process on Authier and may expedite Completion much sooner.
The sale of Authier will allow Glen Eagle to focus on its core business as a new gold producer, be debt free and remain with approximately $2.5 million dollars in working capital. Cobra Oro's plant in Honduras is already cash flow positive and further expansion will be mostly self financed, leaving Glen Eagle in an enviable position within the junior mining market.
Neither the TSX Venture Exchange nor its regulation services provider (as that term is defined in the policies of the TSX Venture Exchange) accepts responsibility for the adequacy or accuracy of this release.