God's Lake Resources Inc.
CNSX : GLR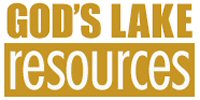 March 11, 2016 16:30 ET
TORONTO, ONTARIO–(Marketwired – March 11, 2016) – God's Lake Resources Inc. (CSE:GLR) ("the Company") announces the resignation of the CFO and Corporate Secretary, Jacqueline Lilley. The Company thanks her for her outstanding work and wishes her the best of luck in her future endeavours.
David Molson has been appointed as CFO and Corporate Secretary to replace Ms. Lilley. David Molson has experience working as an accountant for over a dozen companies in the resource sector.
The Company also announces that it has been named as a defendant in legal proceedings relating to alleged exploration activities by its wholly owned subsidiary, Golden Brick Resources Inc., on its Castlewood gold project. The Company is of the view that the claims being asserted against it are unfounded and it has retained counsel to vigorously defend those claims. The Company will continue to report the status of those proceedings as it develops.
God's Lake Resources is a junior gold exploration company and is publicly traded on the Canadian National Stock Exchange under the symbol GLR.
Shares Outstanding: 9,232,888