Harte Gold Corp.
FRANKFURT : H4O
TSX : HRT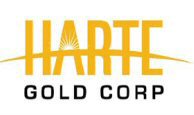 June 28, 2016 07:30 ET
TORONTO, ONTARIO–(Marketwired – June 28, 2016) – HARTE GOLD CORP. ("Harte Gold") (TSX:HRT)(OTC:HRTFF)(FRANKFURT:H4O) is pleased to announce the following updates to its ongoing exploration and development program at its 100% owned Sugar Zone Property in White River, Ontario.
HIGHLIGHTS:
Mining
Bulk Sample mining and underground development is on schedule and budget.
The mining program is on target with two levels, the 375 level and the 360 level development drifts completed. The 345 level is now under development. Ramping continues to access the lower levels and is currently 1,080 meters in length from the portal.
Mining widths encountered on the 375 and 360 development sills range from 3 to 7 meters producing more Development Ore than expected with excellent ground conditions.
Tonnes shipped to Barrick's Hemlo mill now total 5,360. May was the first full month of ore shipments where 1,640 tonnes of Development Ore were delivered to Barrick at an average grade of 11.538 grams/tonne. Results for June far exceeded forecast for both tonnes and grade due to the exceptional widths and grades encountered. The original forecast projected 298 tonnes of Development Ore during June as compared to 2,528 tonnes delivered. Grade reconciliation will be available from Barrick in July and is expected to be above anticipated grades.
Longhole drilling has begun on the 375 level. Mining will begin the first week of July as Harte Gold's first longhole stope. This first Production Ore is scheduled for shipment to Barrick in July.
In order to better test Sugar Zone mineralization and in light of increased mining widths encountered to date under the Bulk Sample, Harte Gold has formally requested approval from the Ministry of Northern Development and Mines ("MNDM") to mine an additional 30,000 tonnes under the Bulk Sample. Harte Gold is developing underground plans to test an area of the Sugar Zone Deposit located south of current mine operations as part of an expanded bulk sample and predevelopment for commercial production.
Harte Gold is proceeding with various commercial production permitting initiatives and is in the process of completing baseline studies, test pitting for the tailings impoundment area and onsite mill design.
Days without Medical Aid or Lost Time now number 248, giving the Harte Gold/Technica Mining team a perfect safety record.
Geophysics Survey and Drill Program
Preliminary results from the recently completed Crone Geophysics survey, show strong, previously untested anomalies within the 2.3 x 1.5 kilometer Survey area between the Sugar Zone and Wolf Zone Deposits.
These multiple targets are located on strike as well as adjacent to the east and west and will be drill tested under Harte Gold's previously announced 5,000 meter exploration drilling program with the objective of expanding the resource base. Please see attached map.
Harte Gold is planning additional geophysics this Fall south of the Sugar Zone Deposit to follow up the "Footwall Discovery" of 2014.
Common Share Purchase Warrants
Harte Gold also announced the exercise of 6,410,732, June 2016 expiry, common share purchase warrants for proceeds of $914,504. This exercise represents 99.9% of June 2016 warrants previously outstanding.
About Harte Gold Corp.
Harte Gold Corp. is focused on the exploration and development of its 100% owned Sugar Zone property where it has permitted a 70,000 tonne Advanced Exploration Bulk Sample for the Sugar Zone Deposit. The Sugar Zone property is located 60 kilometers east of the Hemlo Gold Camp and as per the Preliminary Economic Assessment dated July 12, 2012, contains an Indicated Resource of 980,900 tonnes, grading 10.13 g/t for 319,280 ounces of contained gold (uncapped) and an Inferred Resource of 580,500 tonnes, grading 8.36 g/t Au for 155,960 ounces of contained gold (uncapped). The mineral resource was prepared in compliance with NI 43-101 guidelines. George A. Flach P. Geo, Vice President Exploration, is the Qualified Person for Harte Gold. Harte Gold also holds the Stoughton-Abitibi property located on the Destor-Porcupine Fault Zone which is adjacent to and on strike of Lakeshore Gold's Holloway Gold Mine.
Common Shares Outstanding: 326,885,281
The Toronto Stock Exchange has not reviewed and does not accept responsibility for the adequacy or accuracy of this release.
A map is available at the following address: http://media3.marketwire.com/docs/1060584_Map.pdf