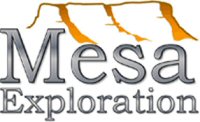 VANCOUVER, BRITISH COLUMBIA–(Marketwired – June 14, 2016) – Mesa Exploration Corp. (TSX VENTURE:MSA)(OTC PINK:MSAJF) (the "Company") is pleased to announce that it has staked mining claims comprising 9,844 acres in Box Elder County, Utah.
The target is a shallow aquifer beginning at 1 to 3 feet deep and from historic analytical work, contains brine grading from 22.0 to 81.2 ppm lithium, averaging 57.6 ppm lithium from 10 wells drilled on two mile spacing. Brine was encountered in several shallow (18 feet) auger holes drilled by Quintana Petroleum in 1966. The area was originally explored for potash however recent robust prices for lithium renders the project suitable for further evaluation. For context the Silver Peak lithium brine mine in Nevada produces brine from wells as deep as 1,000 feet grading 100 ppm lithium.
Foster Wilson, President of MSA, comments, "We are excited to add this very prospective project to our portfolio and look forward to providing updates on our exploration plans. The shallow nature of the brine will allow for a brisk exploration pace and will be less expensive than traditional deep, hard rock mineral projects."
The technical data in this news release have been reviewed by Sam Nunnemaker RPG, LPG, a qualified person under the terms of NI 43-101.
About Mesa Exploration:
Mesa is exploring a portfolio potash, gold and silver mineral properties in the United States where it controls significant land holdings in proven mining districts with excellent access and infrastructure. Mesa currently has 16.7 million shares issued and outstanding, 50% of the shares are controlled by insiders and institutions. For further information please visit our website at www.MesaExploration.com.
ON BEHALF OF THE BOARD
MESA EXPLORATION CORP.
Foster Wilson, President and CEO
This news release includes certain statements that may be deemed "forward-looking statements". All statements in this release, other than statements of historical facts, are forward-looking statements. Although the Company believes the expectations expressed in such forward-looking statements are based on reasonable assumptions, such statements are not guarantees of future performance and actual results or developments may differ materially from those in the forward-looking statements. Factors that could cause actual results to differ materially from those in forward-looking statements include unsuccessful exploration results, changes in metals prices, changes in the availability of funding for mineral exploration, unanticipated changes in key management personnel and general economic conditions. Mining is an inherently risky business. Accordingly the actual events may differ materially from those projected in the forward-looking statements. For more information on the Company and the risks and challenges of its business, investors should review the Company's annual filings that are available at www.sedar.com
Neither the TSX Venture Exchange nor its Regulation Services Provider (as that term is defined in the policies of the TSX Venture Exchange) accepts responsibility for the adequacy of accuracy of this release.