Montana Gold Mining Company Inc.
CNSX : MGM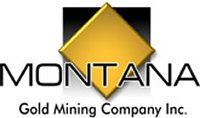 June 10, 2016 15:32 ET
LONDON, ONTARIO–(Marketwired – June 10, 2016) – Montana Gold Mining Company Inc. ("MGM" or the "Company") (CSE:MGM) has received funds for a non-brokered private placement financing totaling $60,000 and consisting of 1,200,000 units priced at $0.05 per unit. Each unit consists of one common share and one common share purchase warrant exercisable for three years at $0.10. Proceeds from the private placement will be used for general working capital and administrative expenses.
The securities issued in connection with the private placement are subject to a four month hold period expiring October 11, 2016.
Montana Gold Mining Company Inc. is a reporting issuer in good standing in the Province of Ontario whose common shares are listed on CSE (Symbol: MGM). There are 49,664,765 common shares issued and outstanding in the capital of the Company, prior to any issuances from the private placement discussed herein.
CSE has not reviewed and does not accept responsibility for the adequacy or accuracy of this release.