Plateau Uranium Inc.
TSX VENTURE : PLU
FRANKFURT : QG1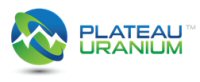 February 10, 2016 16:56 ET
TORONTO, ONTARIO–(Marketwired – Feb. 10, 2016) – Plateau Uranium Inc. ("Plateau Uranium" or the "Company") (TSX VENTURE:PLU)(FRANKFURT:QG1) announced that it has filed today on SEDAR a technical report to support the updated Preliminary Economic Assessment (PEA) for its uranium projects located on the Macusani Plateau in the Puno District of southeastern Peru disclosed in the Company's press release of Janury 25, 2016.
Details regarding the updated PEA can be found in the Company's press release of January 25, 2016 and the technical report, both of which have been filed and are available for viewing and download on the Company's profile at www.sedar.com.
Upcoming Events
Plateau Uranium will be attending the annual PDAC Convention in Toronto March 6-9, 2016. Please come and see us at Booth #3127 at the Investors Exchange to learn more about the company, the projects and uranium market.
About Plateau Uranium
Plateau Uranium Inc. is a Canadian uranium exploration and development company focused on the exploration of its properties on the Macusani Plateau in southeastern Peru. The Company controls all reported uranium resources known in Peru and mineral concessions that cover over 910 km2 situated near significant infrastructure. Plateau Uranium is listed on the TSX Venture Exchange under the symbol 'PLU' and quoted on the US OTC under the symbol 'PLUUF' and the Frankfurt Exchange under the symbol 'QG1'. The Company has 40,639,863 shares outstanding. For more information please visit www.plateauuranium.com.
Neither TSX Venture Exchange nor its Regulation Services Provider (as that term is defined in the policies of the TSX Venture Exchange) accepts responsibility for the adequacy or accuracy of this release.
Website: www.plateauuranium.com
Facebook: www.facebook.com/plateauuranium/
Twitter: www.twitter.com/plateauuranium/