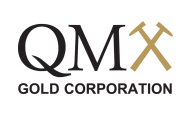 TORONTO, ONTARIO–(Marketwired – June 17, 2016) – QMX Gold Corporation ("QMX" or the "Company") (TSX VENTURE:QMX) announces that Mr. Fred Leigh and Mr. Bruce Humphrey have been appointed as directors of QMX. Robert Bryce, director of the Company, has stepped down effective immediately.
Mr. Leigh has been involved in the junior resource sector for more than 32 years and has had a significant role as founder, director and/or investor in many public companies. He is also the founder and President of Siwash Holdings Ltd., a privately held company that, for over 21 years has invested in early stage opportunities in the resource sector. Siwash was an early investor in successful companies such as, Wheaton River Minerals, Hathor Exploration and Blue Pearl Mining.
Mr. Humphrey is a mining engineer with over 35 years' experience. He served as the President and Chief Executive Officer of Desert Sun Mining Corp. from October 2004 to April 2006. From May 1998 to May 2004, Mr. Humphrey served as Senior Vice President and Chief Operating Officer of Goldcorp Inc. He is a member of the Professional Engineers of Ontario. He also serves as a director of several public companies in the resource sector.
The Company thanks Mr. Robert Bryce for his dedication to QMX and the Company's management wishes him well in his future endeavors.
Forbearance Agreement
The Company also announces that it has entered into an amendment and forbearance agreement (the "Agreement") with its creditor, Forbes & Manhattan, Inc., (the "Debentureholder") amending certain terms of the secured debenture issued on March 28, 2014 (the "Debenture").
The Agreement sets out revised terms and amendments to the Debenture whereby the Debentureholder has agreed to waive the defaults under the Debenture until December 31, 2016. QMX has agreed to pay a fee of $65,000 in consideration for the Debentureholder entering into the Agreement, payable through the issuance of common shares of the Company based on the 20-day volume weighted average share price of $0.0686. The Company also agreed to settle a portion of the current outstanding unsecured debt of the Company owed to the Debentureholder, which shall be satisfied by the Company issuing to the Debentureholder such number of common shares of the Company equal to $237,376 based on the 20-day volume weighted average price of $0.0686. The Company will issue a total of 4,407,813 common shares to the Debentureholder under the Agreement. The issuance of the common shares pursuant to the Agreement is subject to TSX Venture Exchange ("TSXV") approval.
About QMX Gold Corporation
QMX Gold Corporation is a Canadian mining company traded on the TSX-V under the symbol "QMX". The Company is focusing on mine development and exploration in Quebec and is actively looking for mining projects for acquisition or option in the Val d'Or area. In addition, QMX operates its Aurbel gold mill as a toll milling facility-servicing clients in the Abitibi Region.
Cautionary Note Regarding Forward-Looking Information and Mineral Resources:
This press release contains or may be deemed to contain "forward-looking information" within the meaning of applicable Canadian securities legislation. Forward-looking information includes, but is not limited to, statements regarding the appointment or resignation of directors; entering into the Agreement; the impact of the Agreement on QMX and other statements. Generally, forward-looking information can be identified by the use of forward-looking terminology such as "plans", "expects" or "does not expect", "is expected", "budget", "scheduled", "estimates", "forecasts", "intends", "anticipates" or "does not anticipate", or "believes", or variations of such words and phrases or state that certain actions, events or results "may", "could", "would", "might" or "will be taken", "occur" or "be achieved". Forward looking information is subject to known and unknown risks, uncertainties and other factors that may cause the actual results, level of activity, performance or achievements of the Company, its properties and/or its projects to be materially different from those expressed or implied by such forward-looking information, including but not limited to those risks described in the disclosure documents of the Company filed under the Company's profile on SEDAR. Although the Company has attempted to identify important factors that could cause actual results to differ materially from those contained in forward-looking information, there may be other factors that cause results not to be as anticipated, estimated or intended. There can be no assurance that such information will prove to be accurate, as actual results and future events could differ materially from those anticipated in such statements. Accordingly, readers should not place undue reliance on forward-looking information. The Company does not undertake to update any forward-looking information, except in accordance with applicable securities laws.
Neither TSX Venture Exchange nor its Regulation Services Provider (as that term is defined in policies of the TSX Venture Exchange) accepts responsibility for the adequacy or accuracy of this release.