Rubicon Minerals Corporation
TSX : RMX
OTC PINK : RBYCF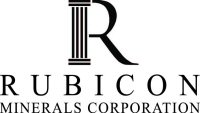 March 10, 2016 17:30 ET
TORONTO, ONTARIO–(Marketwired – March 10, 2016) – Rubicon Minerals Corporation (TSX:RMX)(OTC PINK:RBYCF) ("Rubicon" or the "Company") is providing remarks on the recent trading activity of its common shares on the Toronto Stock Exchange and U.S. over-the-counter markets, as recommended by market regulation services.
It is the Company's policy to not comment on market speculation or rumours. The Company does not have any material changes to report at this time and it is not aware of any material, undisclosed information that would account for the recent trading activity. Rubicon will continue to keep the market informed as required.
RUBICON MINERALS CORPORATION
Michael Winship, Interim President and Chief Executive Officer
The Toronto Stock Exchange has not reviewed and does not accept responsibility for the adequacy or accuracy of this release.