San Marco Resources Inc.
TSX VENTURE : SMN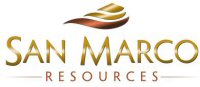 June 07, 2016 14:15 ET
VANCOUVER, BRITISH COLUMBIA–(Marketwired – June 7, 2016) – San Marco Resources Inc. (TSX VENTURE:SMN) announces that it has granted options to directors, officers and consultants to purchase a total of 1,800,000 shares at a price of $0.10 per share for five years. The options vest, as to 25% each, on granting and on the next three, six and nine months.
About San Marco
San Marco Resources Inc. (www.sanmarcocorp.com) is a Canadian mineral exploration company with a portfolio of three promising projects in mining-friendly Mexico, including the Cuatro de Mayo Project in Sonora State on which the Company is currently active, and an alliance with GlobeTrotters Resource Group Inc. pursuant to which they will jointly initiate a state-wide effort to generate and acquire new high potential and overlooked mineral targets in Sonora State, Mexico.
San Marco has a committed management team with extensive experience in Mexico and a proven track record of building shareholder value.
Neither the TSX Venture Exchange nor the Investment Industry Regulatory Organization of Canada accepts responsibility for the adequacy or accuracy of this release.