Zadar Ventures Ltd.
TSX VENTURE : ZAD
FRANKFURT : ZAV
OTC PINK : ZADDF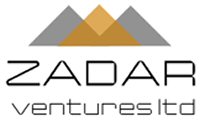 February 24, 2016 09:00 ET
VANCOUVER, BRITISH COLUMBIA–(Marketwired – Feb. 24, 2016) – Zadar Ventures Ltd. (the "Company") (TSX VENTURE:ZAD)(FRANKFURT:ZAV)(OTC PINK:ZADDF) is pleased to announce that it has been approved to trade on the US OTCPK market under the symbol ZADDF. The company is currently preparing all the necessary paperwork to be OTCQB listed.
Zadar Ventures Ltd. is a Resource Company focused on the acquisition and exploration of economically viable green energy resources in jurisdictions favorable to mining and industry. For more information we invite you to visit the company's website at www.zadarventures.com.
The Company is looking forward to an active and accretive 2016.
ON BEHALF OF THE BOARD OF DIRECTORS
Paul D. Gray, P. Geo., President
Neither the TSX Venture Exchange nor its Regulation Service Provider (as that term is defined in the policies of the TSX Venture Exchange) accepts responsibility for the adequacy or accuracy of this release. This press release may contain certain forward-looking information. All statements included herein, other than statements of historical fact, forward-looking information and such information involves various risks and uncertainties. There can be no assurance that such information will prove to be accurate, and actual results and future events could differ materially from those anticipated in such information. A description of assumptions used to develop such forward-looking information and a description of risk factors that may cause actual results to differ materially from forward-looking information can be found in the company's disclosure documents on the SEDAR website at www.sedar.com. The company does not undertake to update any forward-looking information except in accordance with applicable securities laws.