Eskay Mining Corp.
TSX VENTURE : ESK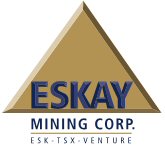 February 05, 2016 12:20 ET
TORONTO, ONTARIO–(Marketwired – Feb. 5, 2016) – Eskay Mining Corp. ("Eskay" or the "Company") (TSX VENTURE:ESK) an aggregate of 600,000 options to purchase common shares of Eskay at $0.105 per share for five years have been granted to three (3) directors of Eskay to replace options recently exercised by the directors.
The grant is subject to acceptance by the TSX Venture Exchange.
About Eskay Mining Corp:
Eskay Mining Corp (TSX VENTURE:ESK) is a TSX Venture Exchange listed company, headquartered in Toronto, Ontario. Eskay is an exploration company focused on the exploration and development of precious and base metals in British Columbia in a highly prolific, poly metallic area known as the Eskay Rift Belt located in the "Golden Triangle", 70km northwest of Stewart, BC. The Company currently holds mineral tenures in this area comprised of 177 claims (130,000 acres).
All material information on the Company may be found on its website at www.eskaymining.com and on SEDAR at www.sedar.com.
Neither the TSX Venture Exchange nor its Regulation Services Provider (as that term is defined in the policies of the TSX Venture Exchange) accepts responsibility for the adequacy or accuracy of this release.