Glen Eagle Resources Inc.
TSX VENTURE : GER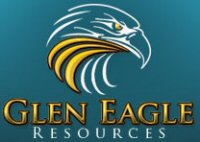 June 08, 2016 08:30 ET
MONTREAL, QUEBEC–(Marketwired – June 8, 2016) – Glen Eagle Resources Inc. (TSX VENTURE:GER) ("Glen Eagle" or the "Company") is pleased to announce that Cobra Oro has shipped on June 2 to NTR Metals in Miami CDN $185,000 in gold and silver. Previous sales by Cobra Oro were done locally through a third party.
To finalize the transaction, Cobra Oro had to file for special registrations with the Ministry of Mines and Cedrex in Honduras, have accounts open with NTR Metals in Miami, Dunbar International for land delivery and TransValue for handling the metal at airports. Special arrangements were also made with a major airline carrier to ship the metal from Honduras to Miami. Having completed succesfully its first transaction, future shipments will be a matter of formalities allowing Cobra Oro to make important savings by selling directly to the end user. NTR Metals is a global precious metal company based in Dallas, United States.
Cobra Oro expects to ship a similar amount of gold and silver for the month of June and plans to increase production substantially in the near future by purchasing additional equipment. Monthly (all in) fix and variable costs to sustain the entire Cobra Oro's operation in Honduras are between CDN $65,000 to $75,000 depending on the amount of mineral being processed during the month.
A considerable amount of money was spent in the last few months to improve and expand current operations. Gradual changes to Cobra Oro's processing plant can be seen with the following link:
Gilles Laverdiere, P.Geo., a qualified person under NI 43-101 has approved the technical content presented herein.
Neither the TSX Venture Exchange nor its regulation services provider (as that term is defined in the policies of the TSX Venture Exchange) accepts responsibility for the adequacy or accuracy of this release.