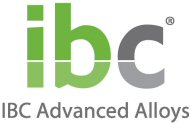 FRANKLIN, INDIANA–(Marketwired – June 16, 2016) –
Editors Note: There is a photo associated with this press release.
IBC Advanced Alloys Corp. (TSX VENTURE:IB)(OTCQB:IAALD) ("IBC" or the "Company") has scheduled a live webcast and conference call with Major General David (Duncan) Heinz (USMC, ret.), President and Chief Executive Officer of IBC, to update investors and the public on the Company's latest developments and business operations.
Among other topics, General Heinz will provide an update on the following: (1) the success of Company's recent restructuring and better-than-expected capital raise; (2) its recently launched production capacity expansion in both its Engineered Materials and Copper Alloys divisions; and (3) its plans for expanding sales in existing and new markets.
The web conference will include a presentation by the General followed by a brief question-and-answer with those participating in the webcast on their computers or mobile devices. Those connecting via phone can participate in listen-only mode, although questions may be emailed in advance to jim.sims@ibcadvancedalloys.com
A recording of the webcast will be made available for viewing by the public following the event.
Advance registration is required in order to participate, and can be done online here: https://attendee.gotowebinar.com/register/6284062271272243204
| | |
| --- | --- |
| WHAT: | IBC Advanced Technologies Update to Investors and the Public via live webcast and conference call |
| WHO: | Major General Duncan Heinz (USMC ret.), IBC President and CEO |
| DATE: | Thursday June 23, 2016 |
| TIME: | 10:00 am Eastern Standard Time; 7 a.m. Pacific Standard Time; 4 pm Central European Time |
| HOW: | Pre-register here: https://attendee.gotowebinar.com/register/6284062271272243204 |
Following registration, participants will be provided instructions on how to participate in the webcast and/or conference call. Specific toll numbers that can be used in 18 different countries will be provided.
About IBC Advanced Alloys Corp.
IBC is a leading beryllium and copper advanced alloys company serving a variety of industries such as defense, aerospace, automotive, telecommunications, precision manufacturing, and others. IBC's Copper Division manufactures and distributes a variety of copper alloys as castings and forgings, including beryllium copper, chrome copper, and aluminum bronze. IBC's Engineered Materials Division makes the Beralcast® family of alloys, which can be precision cast and are used in an increasing number of defense, aerospace, and other systems, including the F-35 Joint Strike Fighter. IBC's has production facilities in Indiana, Massachusetts, Pennsylvania, and Missouri. The Company's common shares are traded on the TSX Venture Exchange under the symbol "IB" and the OTCQB under the symbol "IAALF".
@IBCAdvanced $IB $IAALF #Beryllium #Beralcast
Cautionary Statements
This news release was prepared by management of IBC, which takes full responsibility for its contents. The TSX Venture Exchange has not reviewed and does not accept responsibility for the adequacy of this news release. Neither TSX Venture Exchange nor its Regulation Services Provider (as that term is defined in the policies of the TSX Venture Exchange) accepts responsibility for the adequacy or accuracy of this release.
To view the photo/video associated with this press release, please visit the following link: http://www.marketwire.com/library/20160616-1059212r_800.jpg