Lowell Copper Ltd.
TSX VENTURE : JDL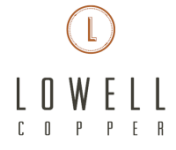 June 02, 2016 15:59 ET
VANCOUVER, BRITISH COLUMBIA–(Marketwired – June 2, 2016) – Lowell Copper Ltd. (TSX VENTURE:JDL) ("Lowell Copper" or the "Company") announces that, pursuant to its Stock Option Plan, it has granted incentive stock options to certain directors, officers, employees and consultants of the Company to purchase up to an aggregate of 1,650,000 common shares in the capital stock of the Company. The options are exercisable at a price of $0.24 per common share, will expire on June 2, 2021 and will vest in four equal parts over two years after the grant.
About Lowell Copper
Lowell Copper is a copper exploration and development focused company led by J. David Lowell and is listed on the TSX-V. The Company owns 100% of the Warintza porphyry copper project in Ecuador and the Ricardo copper exploration project located south of the Chuquicamata Mine in Chile. The Company was founded to leverage the current market conditions and build a portfolio of economic copper projects through a combination of exploration, mergers and acquisitions by utilizing the considerable experience and success of management and directors of the Company.
NEITHER THE TSX VENTURE EXCHANGE NOR ITS REGULATION SERVICES PROVIDER (AS THAT TERM IS DEFINED IN THE POLICIES OF THE TSX VENTURE EXCHANGE) ACCEPTS RESPONSIBILITY FOR THE ADEQUACEY OR ACCURACY OF THIS RELEASE.