Nevado Resources Corporation
TSX VENTURE : VDO
FRANKFURT : NSV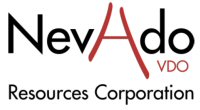 June 14, 2016 12:38 ET
MONTREAL, QUEBEC–(Marketwired – June 14, 2016) – NEVADO RESOURCES CORPORATION (TSX VENTURE:VDO)(FRANKFURT:NSV) ("Nevado" or the "Corporation") invites its shareholders to an annual and special meeting notably to ask for their approval for the consolidation of Nevado's Class A common shares on a basis of one (1) new share of Nevado for every tranche of five (5) old Class A common shares of Nevado currently issued and outstanding. This consolidation would allow the number of Nevado's issued and outstanding shares to be reduced from 51.3 million to about 10.3 million.
Approval of the special resolution by shareholders would give the Board of Directors authority to implement the consolidation of the common shares at its discretion. In addition, notwithstanding approval of the special resolution by shareholders, the Board of Directors may revoke it and abandon the consolidation without any prior notice to shareholders or any approval by them.
The Board of Directors is of the opinion that the Corporation's existing share structure does not permit the obtention of new financings and that it is in the interest of the Corporation and the shareholders to proceed with the consolidation of the common shares in order to facilitate attracting new investments.
The annual and special meeting will take place in Montreal on July 14, 2016. The consolidation is subject to the approval of shareholders and the TSX Venture Exchange.
About Nevado Resources
Nevado Resources is a junior strategic metals company with properties located in Canada. The Corporation has a 70%-30% joint venture with Neomet Technologies Inc. and owns a 100% interest in the La Blache titanium-vanadium-iron property in Northern Quebec, and the Fermont graphite property near Focus Graphite's Lac Knife property.
Neither the TSX Venture Exchange nor its regulation services provider (as that term is defined in the policies of the TSX Venture Exchange) accepts responsibility for the adequacy or accuracy of this news release. The statements made in this news release that are not historical facts are "forward-looking statements" and readers are cautioned that any such statements are not guarantees of future performance, and that actual developments or results, may vary materially from those in these "forward-looking" statements.