New Zealand Gold Claim
Placer (Alluvial Deposits)
Located in New Zealand, the claim is approximately 14.5 Kilometers long by .5 kilometers wide. Approximately 1305 Acres granted Mining Permit with 15 years to run. Conservative inferred reserve of 500,000 oz's. Not subject to winter shutdown. Can be mined all year round. For sale due to age and health reasons.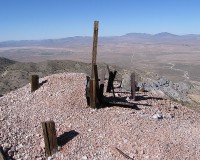 Blackhawk Mine
Permit Ready Gold Mine For Sale
Patented Mine with Proven Gold Reserves of 673,871 ounces also containing silver and copper. The mine includes 3 contiguous lode claims totaling 131 acres and is located in California, USA. This previously producing project contains underground workings of over 12,000 feet.
Minneapolis Creek Gold
Yukon Gold Placer Claims for Sale
Located in White Gold District of the Tintina Gold Belt, Yukon Canada between two producing placer mines directly to the north and south. 20 kilometers from Thistle Creek Landing, Thistle Creek has produced 50,000 Au ounces since 1976.