Patented Gold Mine For Sale
Arizona Operating Gold Mine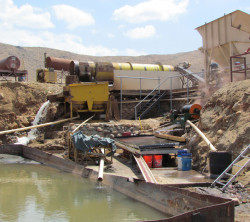 Summary:
59.7 Acre Patented Mining Site & Claim
5 acres recently sold @$50,000/acre
20 acre BLM Mining Claim
1,500 Tons Concentrates @ .5 AU/ton
8500 Tons of Oversize @ 3 grams AU/ ton
Total equipment - $479,000
Plus Thousands of tons of tailings with black sands still in them need to be rerun
Location and Access:
Weaver Creek, Arizona. Mine has county road access.
Description:
This operating Gold mine is in the heart of Arizona's gold producing region immediately downstream from an historic Rich Hill site remembered for an abundance of enormous alluvial nuggets found on and near the surface. The same material has washed downstream through the length of the subject 80-acre property. Gold bearing material fills a V-shaped depression 60' deep at the upper end and 120' deep at the lower end of the property, filled with alluvial material all the way down to bedrock. The advantage of this property is that it is fully permitted, compliant, and water well 33GPM.
Geology:
The mine location is at the base of Rich Hill.
Photos:
For More Information Please Use The Form Below: