Khalkos Exploration Inc.
TSX VENTURE : KAS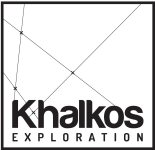 February 08, 2016 16:00 ET
MONTREAL, QUEBEC–(Marketwired – Feb. 8, 2016) – KHALKOS EXPLORATION ("Khalkos") (TSX VENTURE:KAS) The management of Khalkos is pleased to announce drill hole MA-15-05 undertaken on the Malartic property, has intersected a high gold grade zone with visible gold of 12.95 g/t Au over 0.5 m at a vertical depth of 250 metres. All other drill holes undertaken on the property have intersected the target shear zone, thus, validating the originally considered geological model. The campaign of 1,500 metres has allowed, for the first time on this property, to demonstrate the extension of the gold zone at more than 200 metres of vertical depth.
Drill holes MA-15-03 and MA-15-04B have intersected the main shear zone. They highlight a low grade mineralized envelope with respectively 0.52 g/t Au over 5 m and 0.4 g/t Au over 4 m. The drill hole MA-15-05 confirmed the extension of the gold zone toward south-east already demonstrated by drill holes MA-15-01 and MA-15-02 with respectively 3.7 g/t Au over 4 m and 2.5 g/t Au over 5.1 m (press releases 8 and 15 December 2015). Drill hole MA-15-05 is the deepest undertaken on the property as to date and shows an excellent potential for the discovery of economical zones at larger depths. (See longitudinal section).
http://www.khalkos.com/files/project/5/288_Malrobic_longit2.jpg
Robert Gagnon, President of the Company states: " Khalkos is proud to be the first company to demonstrate the continuity of Malrobic at larger depths. The success of the first drilling campaign and the expansion of the Malartic project with the acquisition of the neighbor property Malartic Lakeshore (press release November 23 2015) give Khalkos a realistic potential to a major discovery in Malartic mining camp."
Following an insurance program and analytical quality control, blank samples and controls were added to the collected samples from the drill cores of the Malartic property for the fire assay performed by ALS Chemex laboratory in Val-d'Or, Quebec.
This press release was prepared by Robert Gagnon, President of Khalkos, Qualified Person pursuant to National Instrument 43-101.
Neither the TSX Venture Exchange nor its Regulation Services Provider (as that term is defined in the policies of the TSX Venture Exchange) accepts responsibility for the adequacy or accuracy of this release.