Northern B.C. Placer Claim For Sale
Goldpan Creek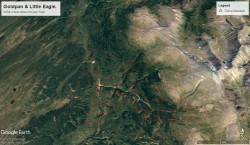 Summary:
Discovered in 1924, was only mined by hand exploration, over the years has been a mining operation showing encouraging results,at the lower end of the creek where it meets little eagle river.Historically 2700 ounces was taken off the creek by hand in a few years of work . History shows one of the pits mined 4500 yards and recovered 670 ounces of gold. Little eagle is a wide valley and was going to be drilled in the 30's to set up for dredging , now a days it looks very encouraging for a new zeland floater. Were looking for a miner who would like to purchase the high grade area on goldpan and take the little eagle property on a royalty basis.
Location and Access:
Goldpan/little eagle is located approx 20 miles east of the town of Dease Lake . There is a miners road established and might need some work.
Description:
Goldpan/ little eagle were one of the last areas in Northern B.C. to be discovered and over the years has been ignored by many miners. The ability to have a floater operation on little eagle and a smaller high grade operation on goldpan at the same time would make this property to become very successful. It was mined with machinery in the early 2000's and has been unproductive since then. The property consists of 3kms of floatable property on the little eagle and 2 kms of property on goldpan creek consisting of 271ha of minable ground.
Photos:
For More Information Please Use The Form Below: