Two prospecting licences with an historical mine shaft
Monger Mining Claims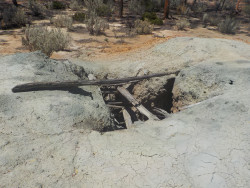 Location and Access:
Located approx. 45 mins from Kalgoorlie via Mt Monger Road, then via well maintained station tracks for approx 7km.
Description:
Two prospecting licences within a promoinant gold mining district that has seen very little historical exploration. There is at least one old historical ming shaft on the tenement and other gold diggings. Numerous quartz outcrops occur across the Monger project. The tenements are located north of Lake Lefroy. There is active gold exploration and mining within the vicinity. Contact for further information.
Geology:
The Kalgoorlie Terrrain is composed of three strategraphic sequences. The laterally extensive lowermost unit comprises tholeiitic basalt and komatite, with isolated centres of temporally equivalent felsic to intermediate volcanic rock. The sequence is generally overlain by regionally expensive sequence of younger felic volcanic and volcaniclastic rock (Swagner and Griffin 1990).
Photos:
For More Information Please Use The Form Below: